unbezahlte Werbung | Rezensionsexemplar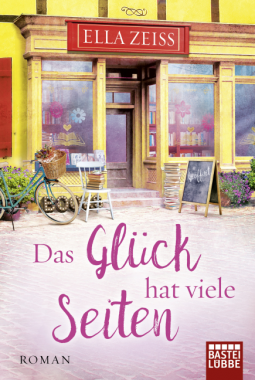 Ella Zeiss – Das Glück hat viele Seiten
★★★☆☆

Klappentext
"Ein Laden voller verstaubter Bücher in einem Dorf in der Eifel – was hat Tante Marlies sich nur dabei gedacht, ihr Geschäft ausgerechnet Hannah zu vererben, die seit Jahren kein Buch mehr angerührt hat? Zum Glück ist mit dem attraktiven Geschäftsmann Ben schnell ein Käufer gefunden. Als Hannah jedoch von seinen Plänen für den Laden erfährt, setzt sie alles daran, den Verkauf noch zu verhindern. Denn sie ist längst wieder der Magie der Bücher erlegen. Rasch entbrennt ein Kampf um die Zukunft des Buchladens, bei dem zwischen Hannah und Ben heftig die Funken fliegen.
Eine Geschichte über alte Wunden und neue Träume – zum Schmunzeln und Dahinschmelzen. Und eine Liebeserklärung an das Lesen."


Meine Meinung
Mir hat der Schreibstil von Ella Zeiss gut gefallen und ich habe mich schnell in die Geschichte eingefunden. Dennoch war mir der Roman etwas zu oberflächlich; mir hat der Tiefgang gefehlt. Einige Emotionen wirkten nahezu kitschig. Nach all dem hin- und her war mir das Ende schließlich zu märchenhaft.
Da ich leider keinen Bezug zur Hauptfigur Hannah aufbauen könnte, hat mich das Buch nicht wirklich mitreißen können. Dennoch sind die Geschichte und das Setting süß und ich bin überzeugt, dass einige begeistert sein werden.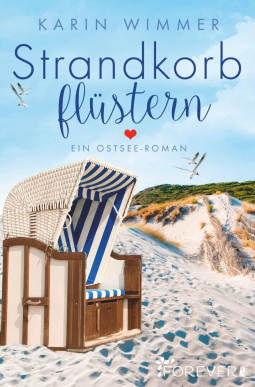 Karin Wimmer – Strandkorbflüstern
★★★★☆

Klappentext
"Alexandra hat ihr Leben durchgeplant: Haus, Hochzeit und Kinder mit Langzeitfreund Robert. Und so nebenbei noch irgendwann die Diplomarbeit schreiben. Doch dann verliert Alexandra ihren Praktikumsplatz, weil die Diplomarbeit eben noch immer nicht fertig ist, und erwischt Robert auch noch mit ihrer besten Freundin im Bett. Aufgelöst und plötzlich völlig planlos fährt Alexandra zu ihrer Zwillingsschwester, die eine kleine Pension mit Restaurant an der Ostsee führt. Dort kommt sie erst mal unter und lernt Koch Niko kennen. Der ist nicht nur witzig und gutaussehend, sondern auch sehr nett. Wir sind nur Freunde, sagt sich Alexandra, aber Niko bringt ihr Herz ganz schön ins Stolpern. Doch er ist viel jünger und außerdem ist sie ja frisch getrennt. Und schon beginnen Warnleuchte im Kopf und Schmetterlinge im Bauch zu streiten …"

Meine Meinung
Die ist das erste Buch, dass ich jemals von Karin Wimmer gelesen habe und es wird nicht das Letzte sein!
Die Autorin nimmt den Leser mit in eine kleine Pension an der Ostsee; ein wundervolles Setting für einen Wohlfühlroman. Die Geschichte ist wie aus dem Leben gegriffen und lässt einen sehr schnell teilhaben. Kombiniert mit einem tollen Schreibstil konnte ich das Buch nur so verschlingen.
Trotz der Wohlfühlatmosphäre spricht das Buch ernstere Themen an, wie zum Bespiel den Altersunterschied der Hauptfiguren und hebt sich dadurch von einigen anderen Nord- und Ostsee Sommerromanen ab.
Ich freue mich auf den zweiten Band!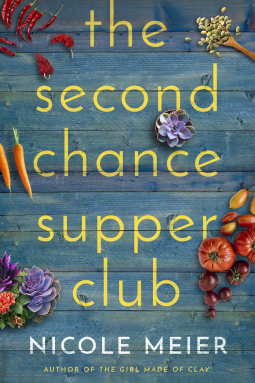 Nicole Meier – The second chance supper club
★★★★★

Blurb
"They had a forever bond, until a sudden tragedy thrust them apart. Now, each at a crossroad in her own life, two sisters' paths are about to intersect.
Broadcast journalist Julia Frank has it all: a career, an ambitious fiancé and the hard-won respect of her peers. Until a ruinous decision destroys her reputation, puts her job at risk, and sends her reeling toward the only soul left to turn to: her estranged sister, Ginny.
The owner of a clandestine supper club hidden in the Arizona desert, Ginny Frank has a lot on her plate. The last thing she wants is more drama―or the burden of nursing her younger sister's wounded ego. But family is family. Besides, Ginny can use the help in more ways than one, and she's going to make sure Julia pulls her weight.
As a tenuous reunion reopens old wounds, Julia and Ginny have no choice but to confront the pain and betrayals of the past. Will working to keep the secret supper club running be just what they need to find common ground and a path toward forgiveness, or will the increasing stress push them even further apart?"

My opinion
This book about second chances was very moving. I generally like when characters and relationships develop over time and a book represents aspects of life that might not be perfect, but we all have to live with. I got all of this in "the second chance supper club", plus a great atmosphere! The story is set in Arizona and even though I have never been there, I could imagine it perfectly, just like all the delicious food described in the book.
Yet, the characters were my favorite part about the book – it felt like I knew them personally. What drew me to this book was the cover though. I never read anything by Nicole Meier before, but I will definitely watch out for more!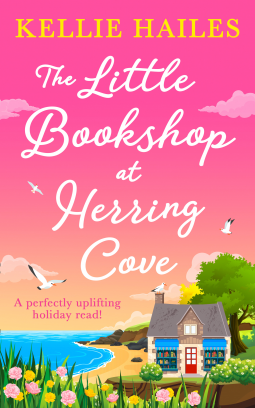 Kellie Hailes – The Little Bookshop at Herring Cove
★★★★★

Blurb
"The start of something wonderful…
Sophie Jones loves her little bookshop at Herring Cove. She'll never give it up to big property developer, Alexander Fletcher – no matter how handsome he might be…
Yet beneath Alex's sharp suit and persuasive manner, there's something about him that makes Sophie want to trust him.
So when he offers to help make her little shop a success again, she wonders whether this could be the start of something wonderful for both Sophie and Alex – together?"

My opinion
After downloading this book, I realized that it was the fifth book in a series. But luckily, you don't need to have read all the other books before reading this one.
The love between Sophie and Alex is almost instant. Yet, Sophie can't give in that easily, because she has to protect the bookshop that originally belonged to her (now deceased) parents. The outcome of the story wasn't a surprise, but I didn't expect that either – it's a chick-lit novel after all. Yet, it was interesting to see how both Alex and Sophie fought for their happy ending. I'm going to read the rest of the series now.
Shaun Bythell – Confessions of a Bookseller
★★★☆☆

Blurb
"'Do you have a list of your books, or do I just have to stare at them?'
Shaun Bythell is the owner of The Bookshop in Wigtown, Scotland. With more than a mile of shelving, real log fires in the shop and the sea lapping nearby, the shop should be an idyll for bookworms.
Unfortunately, Shaun also has to contend with bizarre requests from people who don't understand what a shop is, home invasions during the Wigtown Book Festival and Granny, his neurotic Italian assistant who likes digging for river mud to make poultices.
The Diary of a Bookseller (soon to be a major TV series) introduced us to the joys and frustrations of life lived in books. Sardonic and sympathetic in equal measure, Confessions of a Bookseller will reunite readers with the characters they've come to know and love."

My opinion
Funnily enough I read a novel about the joy of physical books as an e-book. Oh well. But I do enjoy physical book and independent bookstores a lot, so this book was still for me.
"Confessions of a Bookseller" is a funny and sweet story; the type of "easy read book" that you gladly take with you on a holiday.
Shaun Bythell writes about his experience as a bookseller in a diary-style, which is an interesting perspective that you don't usually get in as much detail when reading novels set in bookstores.
Due to the nature of diaries, some aspects become very repetitive, which can feel boring at times. What bothered me more were some of the judgmental comments. Many fun anecdotes made it worth reading though – I love his Scottish humor!