unbezahlte Werbung | Rezensionsexemplar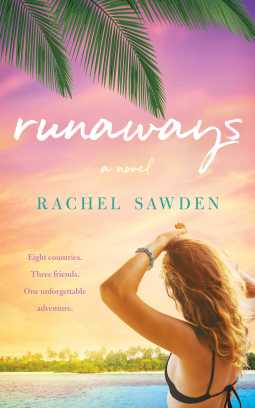 Rachel Sawden – Runaways
★★★★☆
Blurb
"Harper Rodrigues' five-year plan was on track. She'd worked hard to secure her graduate marketing job, her boyfriend Adam was set to propose any day, and she was learning to process the death of her sister. She'd been through some dark times, but there was light at the end of the tunnel.​ At least, that's how it had seemed until the day she was fired in the morning and dumped by nightfall.​ Now, with her life plans in ruins, Harper turns to her best friends who've been planning to go on the trip of a lifetime – five-months traveling across Asia and Oceania. Determined to see the silver lining in her unraveled plans, she decides to book a plane ticket to join them and resurrect her dreams of becoming a travel photographer. ​ But Harper's travels aren't all sunshine and cocktails. With Adam begging for her forgiveness and proposing on the eve of her departure, Harper knows she must be on her best behavior. But when she meets Xavier, an enigmatic poet on the beaches of Goa, that may just be easier said than done.​ Runaways is the empowering and racy tale of one woman's voyage of self-discovery. A must-read for fans of travelogues and romance alike."


My opinion
This romantic and fun chick lit book by debut author Rachel Sawden was a nice surprise to me! I really liked the topic of travelling and self-discovery, also because I noticed that travelling tells me a lot about myself throughout the years.
But Rachel Sawden did not only pick a topic I could easily relate to, but executed it perfectly! The journey was full of believable up and downs, just like they would occur in real life. I could quickly build a relationship with the protagonists.
The writing itself is well done – I bet some would read the entire book in one sitting.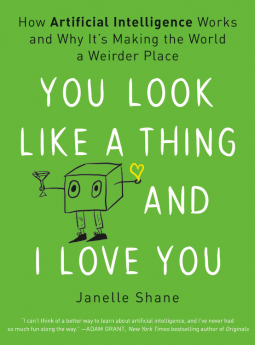 Janelle Shane – You Look Like a Thing and I Love You
★★★★☆
Blurb
"'You look like a thing and I love you' is one of the best pickup lines ever…according to an artificial intelligence trained by the scientist Janelle Shane, creator of the popular blog AI Weirdness. Shane creates silly AIs that learn how to name colors of paint, create the best recipes, and even flirt (badly) with humans—all to understand the technology that governs so much of our human lives.
We rely on AI every day, trusting it for matters both big and small, from unlocking our phones to hospital care. But how smart is AI really…? Shane delivers the answer to every AI question you've ever asked, and some you definitely haven't—such as: How can a computer design the perfect sandwich? What does robot-generated Harry Potter fan fiction sound like? And is the world's best Halloween costume really "vampire hog bride"?
In this smart, often hilarious introduction to the most interesting science of our time, Shane shows how these machines learn, fail, and adapt—and how they reflect both the best and worst of humanity."


My opinion
Artificial intelligence and machine learning are complex topic that require a lot of technical and mathematical understanding to make sense. Yet, Janelle Shane managed to get across lots of the ideas behind AI and ML without going too much into detail, using analogies that make sense to laymen.
For me as a designer, the topic is super interesting and relevant, but hard to understand in its entirety. While this book of course is not the single source of truth for anything AI, it is definitely a great introduction, written in a fun and digestible way, just as the title indicates.
This book is probably better as a printed copy than as an e-book on an e-reader. Lots of graphics are simply too small to be readable on a kindle, hence four stars instead of five.
Kiley Reid – Such a Fun Age
★☆☆☆☆
Blurb
"A striking and surprising debut novel from an exhilarating new voice, Such a Fun Age is a page-turning and big-hearted story about race and privilege, set around a young black babysitter, her well-intentioned employer, and a surprising connection that threatens to undo them both.
Alix Chamberlain is a woman who gets what she wants and has made a living, with her confidence-driven brand, showing other women how to do the same. So she is shocked when her babysitter, Emira Tucker, is confronted while watching the Chamberlains' toddler one night, walking the aisles of their local high-end supermarket. The store's security guard, seeing a young black woman out late with a white child, accuses Emira of kidnapping two-year-old Briar. A small crowd gathers, a bystander films everything, and Emira is furious and humiliated. Alix resolves to make things right.
But Emira herself is aimless, broke, and wary of Alix's desire to help. At twenty-five, she is about to lose her health insurance and has no idea what to do with her life. When the video of Emira unearths someone from Alix's past, both women find themselves on a crash course that will upend everything they think they know about themselves, and each other.
With empathy and piercing social commentary, Such a Fun Ageexplores the stickiness of transactional relationships, what it means to make someone family, and the complicated reality of being a grown up. It is a searing debut for our times."


My opinion
The book starts quite action-packed, and I thought the rest of the novel would continue that way. Unfortunately, I was wrong. I was constantly hoping for something to happen while the story dragged out and it stayed slow. Many times, I was close to giving up and picking up another book. Now I wished I had because the ending wasn't satisfactory either.
The fact that I couldn't relate to the unlikable and stereotypical characters didn't help. I simply did not find them believable, which had a strong effect on how I perceived the addressed political topics such as racism.
The blurb sounded so promising, but unfortunately, the execution let me down. I really don't understand all the hype. This book definitely wasn't for me.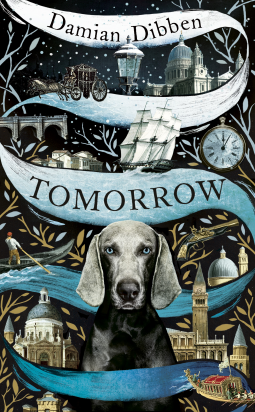 Damian Dibben – Tomorrow
★★★★★
Blurb
Tomorrow tells the story of a 217-year-old dog and his search for his lost master. His adventures take him through the London Frost Fair, the strange court of King Charles I, the wars of the Spanish succession, Versailles, the Golden Age of Amsterdam, 19th-century Venice and the Battle of Waterloo. As he journeys through Europe, he befriends both animals and humans, falls in love (only once), marvels at the human ability to make music, despairs at their capacity for war and gains insight into both the strength and frailties of the human spirit.
With the rich historical vision of Jonathan Strange & Mr Norrell and the captivating canine perspective of The Art of Racing in the Rain, Tomorrow draws us into a unique, century-spanning tale of the unbreakable connection between dog and human.


My opinion
First of all, isn't the idea spectacular? A book written from the point of view of a 217-year-old dog on his search for his master throughout the centuries… I wonder what it requires to come up with such a plot!
Anyways, the execution was brilliant. I loved this book from start to finish!
The author took me on a rollercoaster of emotions; wrote about horrific as well as very moving moments and left me wondering how this story would end until the last pages.
I had the impression that the historical aspects of the book were very well researched and partially very described in great detail.
I will definitely read more magical realism and historical fantasy (is that a thing?) in the future. But first, I have overcome this sense of loss this book left me in.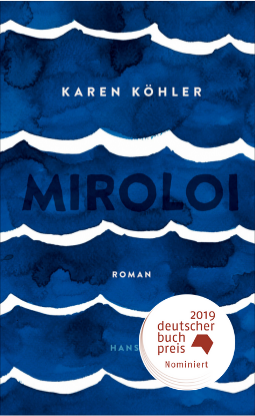 Karen Köhler – Miroloi
★★★★☆
Klappentext
"Ein Dorf, eine Insel, eine ganze Welt: Karen Köhlers erster Roman katapultiert uns direkt hinein in den Kopf einer jungen Frau, die als Findelkind in einer abgeschirmten Gemeinschaft aufwachst. Hier haben Männer das Sagen, dürfen Frauen nicht lesen, lasten Tradition und heilige Gesetze auf allem. Was passiert in einem solchen Dorf, wenn man sich als Außenseiterin gegen alle Regeln stellt? Wenn man den Konjunktiv und heimlich lesen lernt, Freundschaften und Allianzen schließt, sich verliebt und endlich, endlich einen Namen bekommt? Voller Hingabe, Neugier und Wut auf die Verhältnisse erzählt Miroloi von einer jungen Frau, die sich auflehnt: Gegen die Strukturen ihrer Welt und für die Freiheit. Unbändig und feinfühlig konnte dieses Buch an jedem Ort und in jeder Zeit spielen. Ein großer Roman, in dem jedes Detail brennt und leuchtet – und die bewegende Geschichte eines ganzen Lebens, nicht weit von hier."


Meine Meinung
Ich finde das Thema Gleichberechtigung sehr wichtig und spannend. Daher konnte mich Miroloi, in dem eine junge Frau sich auflehnt, sehr schnell in seinen Bann ziehen.
Das Setup ist einzigartig – obwohl das Buch in der Gegenwart spielt, wirken die gesellschaftlichen Strukturen weltfremd und dennoch erkennt man einige Muster aus dem Allltag wieder.
Karen Köhler stellt sehr gut die Ungerechtigkeit und Unterdrückung heraus, die auf der Insel herrscht. Dementsprechend düster ist das Buch an einigen Stellen. Doch es gibt auch berührende, positive Momente, die zumindest einen Teil der dunklen Emotionen auffangen.
Die Figuren fand ich greifbar und glaubwürdig.
Teilweise war mir das Buch zu poetisch oder zu profan geschrieben, daher einen Stern Abzug. Insgesamt hat es mir jedoch sehr gut gefallen.